Having grown up in a Christian atmosphere, my memory as a young boy was one of always being in church. My mother played the organ, my father served as deacon, and I went to all the camps. I accepted Jesus as my Savior at age 8. But because I never started a time each morning of reading God's Word (Joshua1:8), praying to a Holy God (Jeremiah 33:3), and then reaching out to a lonely, dying world (Acts 1:8), I was dying of a broken heart. My life was like the people described in Haggai 1:5-6; "You've planted much, but you've harvested little. You eat, but you never have enough. You drink but you never have your fill. You put on clothes, but are not warm. You earn wages only to put them in a purse with holes in it...". You see, I kept trying to fill the void in my heart with all that the world had to offer, and it would not fill up.
Finally, on August 2nd, 1988, in my office at 5:30 in the evening, I knew that if this Jesus who was my "Savior" did not show Himself to me, then I had nothing left. I was spiritually "trashed". On my knees I began to weep. And then I cried out "God, if you love me and you are there, then show me!" And I immediately felt His loving presence and 20 years of rebellion releasing from a broken heart.
God immediately sent Larry & Judy Carmichael into the lives of our family to disciple us. I am truly Larry's "Timothy". Then the Lord began to send a little boy by our house each day. He was attracted to an old bent basketball rim which I had nailed to our garage. I tried unsuccessfully to get "Danny" to come to our 3rd grade Sunday School class that I taught with my wife, Sally. Because of the divorce of his parents, this little boy alternated weekends between his mother (20 miles away) and his grandmother (near us). We found that we could not minister to this little boy through a traditional church setting. Out of a burden for "Danny" and all of the "Danny's" around our world, this youth ministry was birthed. What began as fifteen 2nd through 5th graders meeting one Saturday per month, blossomed into a ministry reaching 1,200 young people each Saturday, with an average of 5,000 people coming through our gym doors each week.
Basketballs are bouncing in 4 southern Indiana cities and in Tucson Arizona. Our call has since been confirmed through prayer to offer this ministry to your local body.
For we do not preach ourselves, but Jesus Christ as Lord, and ourselves as your servants for Jesus' sake. For God who said, "Let light shine out of darkness" made his light shine in our hearts to give us the light for the knowledge of the glory of God in the face of Christ.
- 2 Corinthians 4:5-6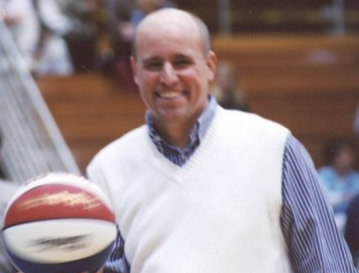 In 2000 Tim Goodpaster exchanged his fulltime position at Cornerstone to assume the position of COFY (Community Outreach for Youth) President as well as the ongoing ministry through EHC. Tim will retain office space at Cornerstone and will seek to raise his salary through COFY and Enter His Courts. This step of faith will enable him to pursue the calling of God to be a public school missionary through COFY and Enter His Courts. Pray for Tim and Sally as they journey with God in building the Kingdom of God one hoopster at a time! Facebook friend request Timothy Goodpaster to be in the EHC info loop.
Tim's Testimony
In 1988 Tim's wife was paralyzed by a disease and four months pregnant and God healed her the week before the start of Enter His Courts! Listen to Tim's testimony.